Mubarak Resigns and Flees Cairo?
After a day of up and down rumors Thursday beginning with widespread anticipation in Egypt and around the world that Mubarak would step down, followed by a defiant speech Thursday evening in which he flatly refused the demands of protesters and said he would stay on as president of Egypt until his term ends in September, it now appears that Mubarak has indeed finally bowed to pressure and resigned.
The Austin, Texas based "global intelligence company" Strategic Forecasting, Inc. - STRATFOR - issued a short emailed "
Red Alert: Mubarak Resigns, Military is in Charge
" Friday morning, hinting they have intelligence of a military coup in Egypt...
Egyptian Vice President Omar Suleiman delivered the following statement Feb. 11: "In the name of God the merciful, the compassionate, citizens, during these very difficult circumstances Egypt is going through, President Hosni Mubarak has decided to step down from the office of president of the republic and has charged the high council of the armed forces to administer the affairs of the country. May God help everybody."

Suleiman's statement is the clearest indication thus far that the military has carried out a coup led by Defense Minister Field Marshal Mohammed Hussein Tantawi. It is not clear whether Suleiman will remain as the civilian head of the army-led government. Egypt is returning to the 1952 model of ruling the state via a council of army officers. The question now is to what extent the military elite will share power with its civilian counterparts.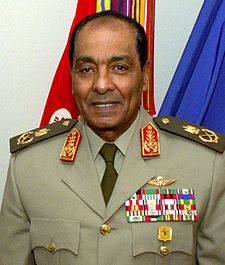 I don't know much about Tantawi - in fact I'll admit to having never heard his name before yesterday.
Reuters describes him
this way:
Mohamed Hussein Tantawi, the head of the Higher Military Council that took control of Egypt on Friday after President Hosni Mubarak was swept from power, has spoken with U.S. Defense Secretary Robert Gates by phone five times since the crisis began, including as late as on Thursday evening.

The ties are long-standing and important to Washington, which provides about $1.3 billion in military aid to Egypt each year.

Pentagon officials have been tight-lipped about the talks between Tantawi and Gates but the U.S. defense chief has publicly praised Egypt's military for being a stabilizing force during the unrest. On Tuesday, Gates said Egypt's military had "made a contribution to the evolution of democracy."
What have the Egyptians accomplished?
I'm very sure that most of them are more than ecstatic today that Mubarak is gone, and I'm very happy for them for that.
But is he really gone?
Or have the Egyptian people been outflanked, and had the clock turned back half a century on them to the very system that produced a Mubarak in the first place?
Will this be, for Egyptians, as much a "Change you can believe in" as Obama has turned out to be for Americans? Or better?
Vice-President says Mubarak steps down, Cairo streets erupt with joy
Reuters via Globe and Mail, Friday, Feb. 11, 2011 11:25AM EST
Egyptian President Hosni Mubarak has resigned and handed control of the country to the military, Vice-President Omar Suleiman announced Friday on national TV.

"In these difficult circumstances that the country is passing through, President Hosni Mubarak has decided to leave the position of the presidency," Mr. Suleiman said. "He has commissioned the armed forces council to direct the issues of the state."
Egypt's Mubarak steps down as president
AP via Jerusalem Post, 02/11/2011 18:22
CAIRO — Egypt's Hosni Mubarak resigned as president and handed control to the military on Friday, bowing down after a historic 18-day wave of pro-democracy demonstrations by hundreds of thousands. "The people ousted the president," chanted a crowd of tens of thousands outside his presidential palace in Cairo.

Several hundred thousand protesters massed in Cairo's central Tahrir Square exploded into joy, waving Egyptian flags, and car horns and celebratory shots in the air were heard around the city of 18 million in joy after Vice President Omar Suleiman made the announcement on national TV just after nightfall.

Mubarak had sought to cling to power, handing some of his authorities to Suleiman while keeping his title. But an explosion of protests Friday rejecting the move appeared to have pushed the military into forcing him out completely. Hundreds of thousands marched throughout the day in cities across the country as soldiers stood by, besieging his palace in Cairo and Alexandria and the state TV building.
Egypt's Mubarak resigns
CBC News, Friday, February 11, 2011 | 11:26 AM ET
Egyptian President Hosni Mubarak has resigned on the 18th day of anti-government protests, and handed over power to the military.

The historic announcement was made live on state TV by Vice-President Omar Suleiman at about 6 p.m. local time Friday.

"In these difficult circumstances that the country is passing through, President Hosni Mubarak has decided to leave the position of the presidency," Suleiman said in a five-minute address translated into English. "He has commissioned the armed forces council to direct the issues of the state."

The announcement elicited wild cheers from protesters — hundreds of thousands of whom had deluged squares in at least three major cities Friday, and marched on presidential palaces and the state TV building, key symbols of the authoritarian regime.

Protesters jumped up and down in Cairo's Tahrir Square, chanting, "Egypt is free!," "God is great," "The people have brought down the regime." Ahead of the announcement Friday, Mubarak had flown to his palace in the Red Sea resort of Sharm el-Sheikh where he often lives and works during the winter. The resort is about 400 kilometres outside of Cairo.

Mubarak's statement came a day after he announced on state television that he would not step down but instead hand over some of his powers to Suleiman.