Hallelujah! It's A Bonanza
(bumped from August 24,2009)
Healthcare insurers get upper hand
By Tom Hamburger and Kim Geiger, L.A. Times, August 24, 2009
Lashed by liberals and threatened with more government regulation, the insurance industry nevertheless rallied its lobbying and grass-roots resources so successfully in the early stages of the healthcare overhaul deliberations that it is poised to reap a financial windfall.

The half-dozen leading overhaul proposals circulating in Congress would require all citizens to have health insurance, which would guarantee insurers tens of millions of new customers -- many of whom would get government subsidies to help pay the companies' premiums.

"It's a bonanza," said Robert Laszewski, a health insurance executive for 20 years who now tracks reform legislation as president of the consulting firm Health Policy and Strategy Associates Inc.

Some insurance company leaders continue to profess concern about the unpredictable course of President Obama's massive healthcare initiative, and they vigorously oppose elements of his agenda. But Laszewski said the industry's reaction to early negotiations boiled down to a single word: "Hallelujah!"

The insurers' success so far can be explained in part by their lobbying efforts in the nation's capital and the districts of key lawmakers.

The bills vary in the degree to which they would empower government to be a competitor and a regulator of private insurance. But analysts said that based on the way things stand now, insurers would come out ahead.

"The insurers are going to do quite well," said Linda Blumberg, a health policy analyst at the nonpartisan Urban Institute, a Washington think tank. "They are going to have this very stable pool, they're going to have people getting subsidies to help them buy coverage and . . . they will be paid the full costs of the benefits that they provide -- plus their administrative costs."
Why is this happening? Paul Krugman has some thoughts on it, via Glenn Greenwald on friday:

In essence, this is the mindset of Rahm Emanuel, and its precepts are as toxic as they are familiar: The only calculation that matters is maximizing political power. The only "change" that's meaningful is converting more Republican seats into Democratic ones. A legislative "win" is determined by whether Democrats can claim victory, not by whether anything constructive was achieved. The smart approach is to serve and thus curry favor with the most powerful corporate factions, not change the rules to make them less powerful. The primary tactic of Democrats should be to be more indispensable to corporate interests so as to deny the GOP that money and instead direct it to Democrats. The overriding strategy is to scorn progressives while keeping them in their place and then expand the party by making it more conservative and more reliant on Blue Dogs. Democrats should replicate Republican policies on Terrorism and national security -- not abandon them -- in order to remove that issue as a political weapon.

If those Emanuelian premises are the ones that you accept, if you believe that Obama should be guided by base concerns of political power, then you're likely to be satisfied with the White House's approach thus far -- both in general and on health care specifically. That would also likely mean that you're basically satisfied with the behavior of Democrats during the Bush era, and especially since 2006 when they won a majority in Congress, since that is what has driven them for the last decade: all that matters is that we beat the Republicans and we should do anything to achieve that, including serving corporate donors to ensure they fund Us and not Them and turning ourselves into war-making, civil-liberties-abridging, secrecy-loving GOP clones in the national security realm.

But that isn't what Obama pledged he would do when he campaigned. He repeatedly vowed he would do the opposite -- that he would reject that thinking and battle aggressively against domination by what he called "the interests of powerful lobbyists or the wealthiest few" who have "run Washington far too long" -- and he convinced millions of people that he was serious, people who, as a result, became fervent devotees to his cause. Those are the people who New York Times columnist Frank Rich recently said have been "punked by Obama" because it is precisely that same narrow group which continues to be the prime beneficiaries and masters of Washington behavior during the Obama presidency.

More than any betrayal on a specific issue, it is Obama's seeming eagerness to serve the interests of those who have "run Washington for far too long" -- not as a result of what he has failed to accomplish, but as a result of what he has affirmatively embraced -- that is causing what Krugman today describes as a loss of trust in Obama from those who once trusted him most. This approach is not only producing heinous outcomes, but is politically self-destructive as well."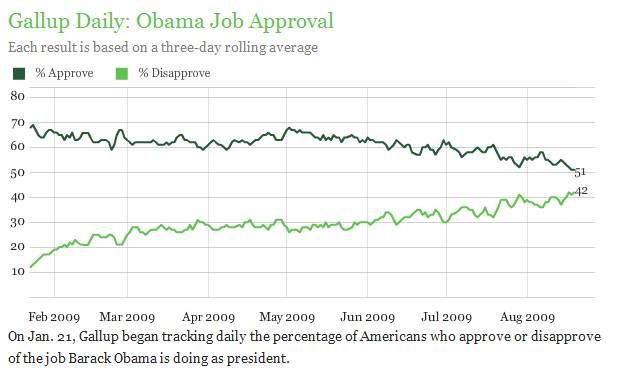 Obama Job Approval